Hurricane Preparedness Week
Governor Henry McMaster has proclaimed May 27 through June 2 to be South Carolina Hurricane Preparedness Week. SCEMD, county emergency managers and the National Weather Service urge citizens to take time now to prepare for major emergency like hurricanes by reviewing their family emergency plans, developing a disaster supplies kit and talking with family members about what could happen during a crisis.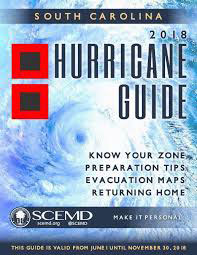 The S.C. Emergency Management Division releases the official 2018 South Carolina Hurricane Guide this weekend as part of this year's S.C. Hurricane Preparedness Week, which details useful information on what residents should do before, during and after the landfall of a major hurricane. Download the 2018 South Carolina Hurricane Guide here: www.scemd.org/stay-informed/publications/hurricane-guide/
---
This guide includes the following tips for residents with special needs:
Put your most important identification and medical records into a digital format for easy safekeeping and quicker movement because paper documents can easily get misplaced or damaged during a significant weather event.
Put your name and contact information on your equipment in case it gets misplaced during the excitement of evacuation, sheltering, or shelter consolidation.
Ask for help if you need it. Call your local emergency management office. Some offices have a list of people who need extra help during an emergency.
Know yourself and have your plan ready and in place. Make sure other people know your plan too. Leave as soon as you can so you can reach your destination safely ahead of a storm.
Review the hurricane preparation checklists in this guide. Think about any additional things you may need like batteries for hearing aids and similar devices, extra oxygen tanks, electrical backups for medical equipment or special food requirements.
Other resources:
www.scemd.org/prepare/your-emergency-plan
www.scdhec.gov/HomeAndEnvironment/DisasterPreparedness/Hurricanes
www.scdhec.gov/HomeAndEnvironment/DisasterPreparedness/PeoplewithSpecialNeeds
www.cityofbeaufort.org/emergency-preparedness.aspx