Respite Night
At Lowcountry Therapy, we love volunteering and giving back to our community. It's not only part our team culture but one of the foundations of our mission statement.
Lowcountry Therapy's Mission:
We are dedicated to providing the highest quality therapy designed to serve each child's potential.
We believe the participation of family and caregivers in the therapy process is fundamental to empower children to perform and participate in life's activities.
We are committed to the support and growth of our professional team by promoting clinical excellence through continuing education, interdisciplinary teamwork and community outreach.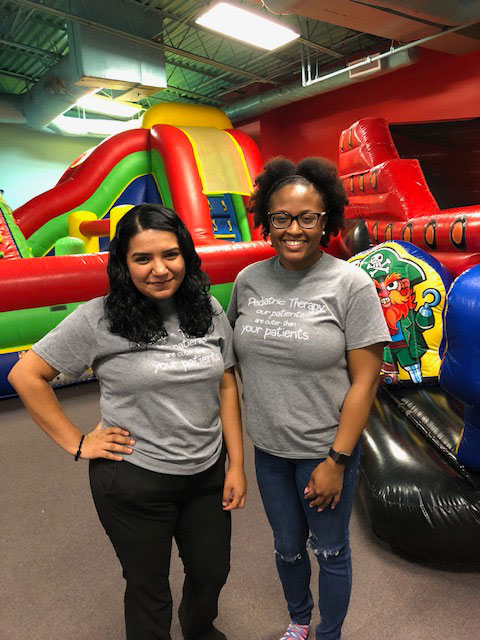 Volunteering outside of the clinic supports all of these invaluable beliefs, so we thought we would share our experiences with you.
Our team has partnered with the Lowcountry Autism Foundation and Island Playground to provide childcare for Parent's Night Out. We have been participating in this event since July of last year.
Parent's Night out is a 3-hour long respite program for parents/caregivers of children with Autism Spectrum Disorder. Parent's can drop their children off (sign in first please) at Island Playground, an indoor activity gym. Licensed therapists and volunteers will be on hand to provide care for your kiddo.
In order to spread the word about this great event, we interviewed Ebony Sheats and Yelitza Sombredero, our Patient Care Coordinators at our Bluffton, SC office, about our most recent volunteer event- Parent's Night Out. Here is what they had to say about this respite night
Question: Ladies, can you tell us about this respite night? What is it?
Yelitza: "Parent's Night Out is held at the Island Playground. It's a night for parents to go out and enjoy themselves or run errands. But some of them are definitely enjoying themselves. You can tell because they walk in all dressed up and come back with smiles on their faces and you can tell they had a good time."
Ebony: "Not only did the parent's have fun, but then they walk in a see how excited the kids are they are even happier."
Yelitza: "Plus, I think they are even more excited when they see how exhausted they are from the night and they know they will get some sleep." (laughs)
Question: What should parents expect at Parents Night Out?
Ebony: "I think they should expect the kids will have fun in a safe environment so there's not need for them to worry. And, they get fed."
Yelitza: "Yeah- they eat a lot. There is pizza from Giuseppe's, veggies, fruit, water and this really good organic fruit juice."
Ebony: "Yes, the fruit juice is excellent, and I think its sugar free, don't quote me on that." (lots of giggling from both)
Question: Why do you volunteer to help with this event?
Ebony: "It's nice to see that kids outside of the clinic, having fun. We actually have fun too!"
Yelitza: "The kids get out of their comfort zone. Last month, one little boy would not let go of mom, then he would not go in the bouncy house. It took a while but by the end of the night- he was bouncing everywhere."
Ebony: "He made a friend too."
Question: How did you two help to get him out of his comfort zone?
Ebony: "Yelitza always volunteers me to go into the bounce house with them and then never gets in herself. The kids will always go in if I go in with them, and I like the bounce house too."
Yelitza: "There are crafts too but Ebony never seems to make it out of the bouncy house and we are usually partnered up."
Question: What else should parents know about Parents Night Out?
Ebony: "Parents should really take the opportunity to relax and enjoy themselves and if that's hard for them, they should let the kids relax and enjoy themselves with each other. And wear socks!"
Question: When is the next Parent's Night Out and how can parent's sign-up?
Date: Aug 16th from 5:00pm- 8:00pm
Location: Island Playground
1538 Fording Island Rd, Suite 104, Hilton Head, SC 29926
Register now: http://www.lafinc.org/parents-night-out#